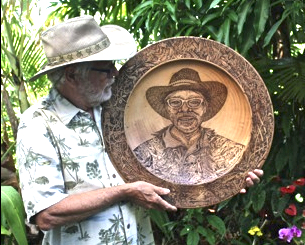 Mydock – Wood Lathe Artist
Growing up in Miami with a woodworker, boat-builder godfather, I was exposed to excellence and attention to detail that continues to challenge me as I strive to improve my craft. My love of working with wood, combined with 40 years as a professional Artist have brought me to my current passion of placing the "Mydock Touch" on these wooden vessels.
The American Association of Woodturners and the Big Island Woodturners clubs have provided the framework for understanding this amazingly addictive art form. After turning a vessel, I choose between two embellishing techniques. The first process I call "Pearlizing" where I airbrush the vessel with multiple layers of a high quality catalyzed urethane, then buff and polish it to a mirror finish. Embedded within these layers are a blush of pearlized colors, sometimes enhanced with pinstriped gold leaf designs.
The second type of embellishment is "Pyrography," which is basically woodburning. This new work has been an evolutionary process, which began with burning a few basic images from nature, leaves and vines, followed by Hawaiian Petroglyphs. My pyrography is now taking on a life of its own ... incorporating intricate weaving and layering of original Mydock designs which have been influenced by Polynesian Tattoo Art, endless knots, the beauty of Nature, and Visionary Art. In many cases, I feel that I am just "following the Art," curious where it will lead and what the end result will be.
I live on the "Big Island" of Hawaii in my studio home with my wife, surrounded by family and Artist friends, where it is second nature to "breathe in Inspiration and breathe out Creativity."