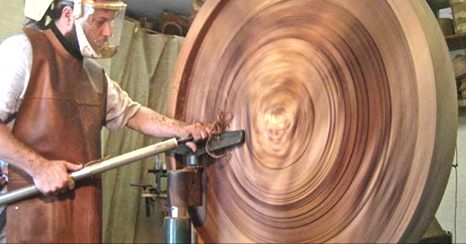 Aaron Hammer
27-569 Kalaoa Camp Rd.
Papaikou, Hawaii 96781
808-964-3494
hammercraft@mac.com
Artist Biography
Originally from Kansas City, craftsman Aaron Hammer moved to Papaikou, Hawaii in 2014 via Israel, India, Nepal and Oahu. In 1995 Aaron began his apprenticeship as a woodturner with master turner Jerry Kermode. Aaron has been operating his own professional wood turning studio in Hawai'i since 2000. He produces his HammerCraft line of lathe-turned artistic and functional bowls, drums, wine corks, wooden jewelry and gift items. Helping to preserve and protect our precious forest resources, all HammerCraft items are made from previously felled Hawaiian trees. Aaron has a passion for working on the lathe because "you work from the center both physically and spiritually...starting with the raw log and transforming it into a finely finished and cherished object is the joy of my creation".
Aaron also has a great love for teaching others the ancient craft of woodturning. His class titled "The outer reaches of Inner space" focuses on utilizing the woodturning process to empower the students' creative potential. Aarons' other interests also include the field of Cymatics, kayaking, musical instrument making, alternative building techniques, Cardigan Welsh Corgi dogs and spending time with his family.