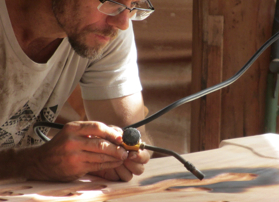 "The art that everyone has to work on is themselves." Gregory Paul
I grew up living among the redwood forests of Northern California where I created a deep relationship with nature. My greatest influence and mentor is my beloved late grandfather, Glen Paul. In his basement woodworking shop, he took me under his wing, allowing me to experiment and investigate the possibilities of redesigning and transforming elements of nature using a plethora of specialized tools. From these early explorations, I formed a solid foundation for building functional objects with the precision of a master craftsman merged with the cutting edge imagination of a visionary artist. I produce life-size sculptures with seemingly contrasting materials. Wood flowing in concrete, resting on a rusting steel stand. Metal shapes encapsulated in wood strips, dancing with cement forms. Aluminum streaming around wooden tongues of fire. Each piece is puzzle-pieced together and folks looking at the pieces often wonder how the parts fit so tightly into the whole. They want to run their hands on the piece and feel the change of textures and patterns.
I create in two different ways. One is to visualize the piece in its entirety, completeness, and the other, is to find the wood and allow it to reveal the imagery, the form. Asking the wood to reveal the imagery is definitely a slower process because there is not an absolute form, change happens. Gregory Paul has won numerous awards including, 1st Place Winner, 38th Annual FallArts Arts Festival; Honorable Mention, 39th Annual Fall Arts Festival, East Hawaii Cultural Council/Hawaii Museum of Contemporary Art, Hilo, HI; and Honorable Mention for Sculpture, 30th Annual Hawaii Wood Guild Exhibit, Isaacs Art Center, HI. His installations can also be viewed on the roof of the Union Mall Building in Downtown Honolulu.