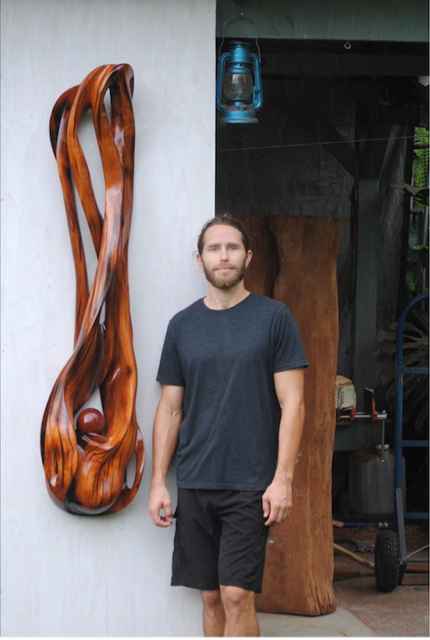 John Strohbehn is a Sculpture Artist and designer living on the Big Island of Hawaii. Using wood and stone his sculptures create flowing abstract movements that speak directly to source of the material. Led by his love of adventure and the mystery of finding and creating each form, John sees a unique story hidden inside each piece. Careful to not impose too many of his own ideas he strives to let the material reveal what it can be. Working with raw shapes of wood he finds many of the gestures are already provided. By refining these gestures, John begins a conversation with the piece that reveals a meaning through the process.
Born and raised in the Palouse hills of rural Washington state, John was exposed to an active and creative life. In Elementary school he had the opportunity to be tutored in advanced art classes. His father, an accomplished water color artist, encouraged John to explore his own creative ideas. Having many interests and muses John developed a unique and diverse skill set. In his twenties, his primary passion was music and he enrolled at Western Washington University to study classical guitar. During this period he worked full time as a graphic designer and sign maker which gradually shifted his focus back to the visual arts. He graduated with a Fine Arts Degree in 2006 with a focus on painting and design. John continued to pursue his design career after school in Bellingham, WA and became the lead designer of a design, fabrication and sign making company. There, John was able to collaborate with other talented fabricators, architects and designers on various large scale projects. Having a hand in both the design and building processes, John was able to intimately learn how an idea grows into a finished product.
After meeting his soon to be wife, John followed his heart and moved to Maui working as a freelance designer. In 2012 John met master sculptor Bruce Turnbull who inspired him to try sculpture. The friendship and experiences he shared with Bruce encouraged John to start making art again. With his artistic focus reawakened by the mysteries of abstract sculpture, John soon found himself carving out a new path. In 2015 John and his wife moved to the Big island where he is currently working in his new studio, creating art that he hopes inspires people to feel the same wonder and gratitude that he feels when in the presence of wild places, whether out in nature or within.